Select Photo Galleries from Window Seat on the World
Vietnam
A typical government meeting in the shadow of Ho Chi Minh.
Chairman Ho's tomb in central Hanoi.
Bike riders waiting at the instruction of a police officer for our party to cross the street.
Secretary Kerry boarding a propeller plane for our first trip to the Mekong River.
Secretary Kerry delivers an environmental speech amid our first trip up the Mekong River Delta.
Secretary Kerry looks at vintage maps of South Vietnam brought in by Dartmouth Professor Ed Miller.
Secretary Kerry points upriver as he returns to the scene if his most infamous battle while in the U.S. Navy.
Secretary Kerry finds the spot where he beached his Swift Boat and killed a Viet Cong soldier in an episode later derided during the 2004 presidential campaign.
Secretary Kerry meets a former Viet Cong soldier who tells him the truth about that 1969 battle.
Secretary Kerry says goodbye to the soldier after hearing the other side of a life-shaping moment from 50 years earlier.
John Kerry waves goodbye after his fourth and final trip to Vietnam as Secretary of State.
John Kerry talks with historian and filmmaker Ken Burns during a symposium focused on the Vietnam War.
The start of a typical trip, with our backup plane at the ready at Andrews Air Force Base.
A typical arrival, in this case in New Delhi, India.
Surveying Leonardo' Last Supper during a break in meetings in Milan, Italy.
A sunrise view of Mt. Fuji during our arrival in Japan amid one of our 10 around-the-world trips.
A view of the Panama Canal at the Miraflores Locks.
Addressing reporters with German Chancellor Merkel as the Reichstag looms in the background.
A prime seat for the Bastille Day ceremony in Paris.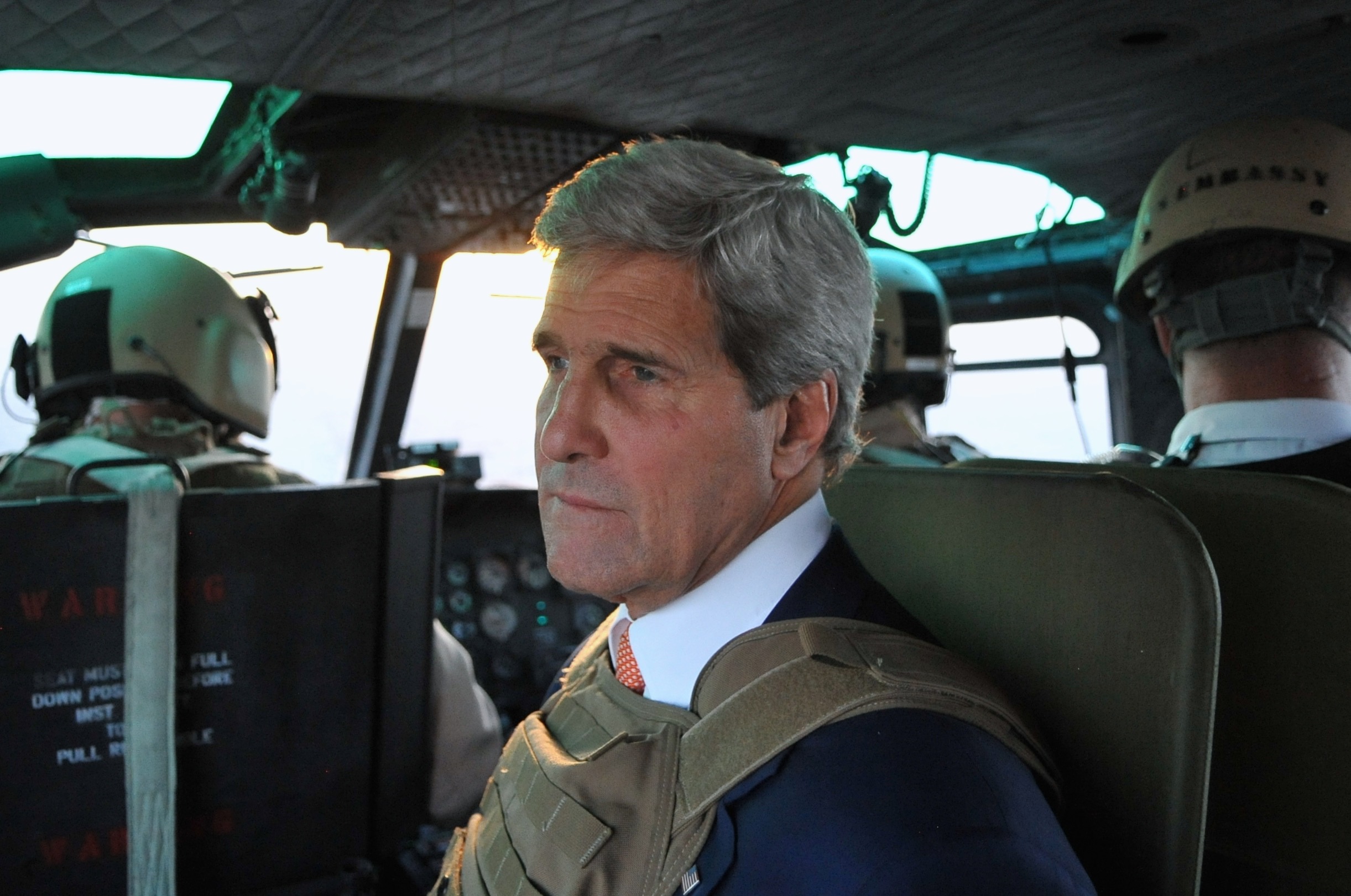 A mesh helicopter seat for a helicopter flight into Baghdad.
A shirt-sleeves walk in the mugginess along the Congo River.
A "Hometown Diplomacy" visit to the Boston Marathon finish line with Australian Foreign Minister Bishop.
A chat with President Obama as he visited the State Department for a speech.
A ceremonial arrival in Bishkek, Kyrgyzstan.
Secretary Kerry listening as Prime Minister Netanyahu addresses reporters outside his office in Jerusalem.
Prime Minister Netanyahu introduces Secretary Kerry to his dog, Kaiya, during a meeting at his official residence.
Secretary Kerry looks out at the Old City of Jerusalem from the balcony of the Rabin Suite at the David Citadel Hotel.
The two parties in one-on-one negotiations.
Secretary Kerry shares a Shabbath toast with Israeli President Shimon Peres at his official residence.
A Jordanian helicopter used to facilitate travel between Amman and Jerusalem and the West Bank.
Secretary Kerry looking out at the Dead Sea during one flight between Jordan and Israel.
An ominous warning sign at the border of Israel and the West Bank.
Secretary Kerry and Saeb Arakat address reporters outside the Palestinian Authority Headquarters in Ramallah, West Bank.
A large multinational meeting during early stage Iran nuclear talks.
A smaller-group session in Lausanne, Switzerland.
A one-on-one meeting between Secretary Kerry and Iranian Foreign Minister Zarif in New York City.
A group session during the Iran nuclear talk marathon in Vienna, Austria.
State Department Chief of Staff Jon Finer trying to get some nourishment during a long negotiating session.
Secretary Kerry signing sanctions relief for Iran after it agreed to the final terms of the nuclear deal.
Secretary Kerry clearing up a last-minute snag that developed before the release of Washington Post reporter Jason Rezaian.
Secretary Kerry still addressing reporters after landing at Andrews Air Force Base following the completion of the Iran nuclear talks.
Secretary Kerry meets Jason Rezaian for the first time following his release in tandem with the Iran nuclear deal.
President Xi, leader of one-quarter of the world's population, awaits the arrival of our delegation.
Secretary Kerry speaks with President Xi in a meeting room at the Great Hall of the People.
A meeting of the U.S.-Chinese delegations at the GHOP, built in just 10 months.
A photo with a Chinese soccer team during a visit to the National Museum on Tiananmen Square.
A visit to the Great Wall with U.S. Treasury Secretary Jack Lew during a Strategic and Economic Dialogue.
Secretary Kerry peers over a section of the Great Wall at Badalang.
Secretary Kerry lays a wreath at the Russian Tomb of the Unknown Soldier at the base of the Kremlin Wall.
President Putin enters to greet Secretary Kerry - after keeping him waiting for hours.
A handshake for the cameras before their bilateral meeting.
President Putin, a former KGB agent, betrays no emotion during his negotiations.
Secretary Kerry engages in potato diplomacy with Russian Foreign Minister Lavrov during a meeting in Paris.
The two diplomats take a walk on the back lawn at Winfield House - the second-largest private yard in London, after the one at Buckingham Palace.
Our plane shrouded in smog in Beijing at high noon during a day that was crystal clear several thousand feet above the airport.
Secretary Kerry seeing sustainable tuna fishing while visiting Bali on behalf of President Obama.
A visit to a glacier field and bay in Greenland at the spot where the iceberg that sunk the Titanic is thought to have originated.
Secretary Kerry addressing the second "Our Ocean" conference in Valparaiso, Chile.
Secretary Kerry touring a solar field in Austin, Texas, during a domestic stop to highlight his work at the State Department.
Secretary Kerry walking near Shackleton's hut during six-hour helicopter tour of Antarctica.
Secretary Kerry and his entourage wait for a penguin to approach them during their tour of Antarctica.
Secretary Kerry traversing a snow field near Scott Base after viewing seals in Antarctica.
After over 100,000 photos OF the Boss, a chance for a final one WITH him before departing our seventh continent.
Speaking with Steve Brown at WBUR CitySpace in Boston.
Speaking with Steve Brown at WBUR CitySpace in Boston.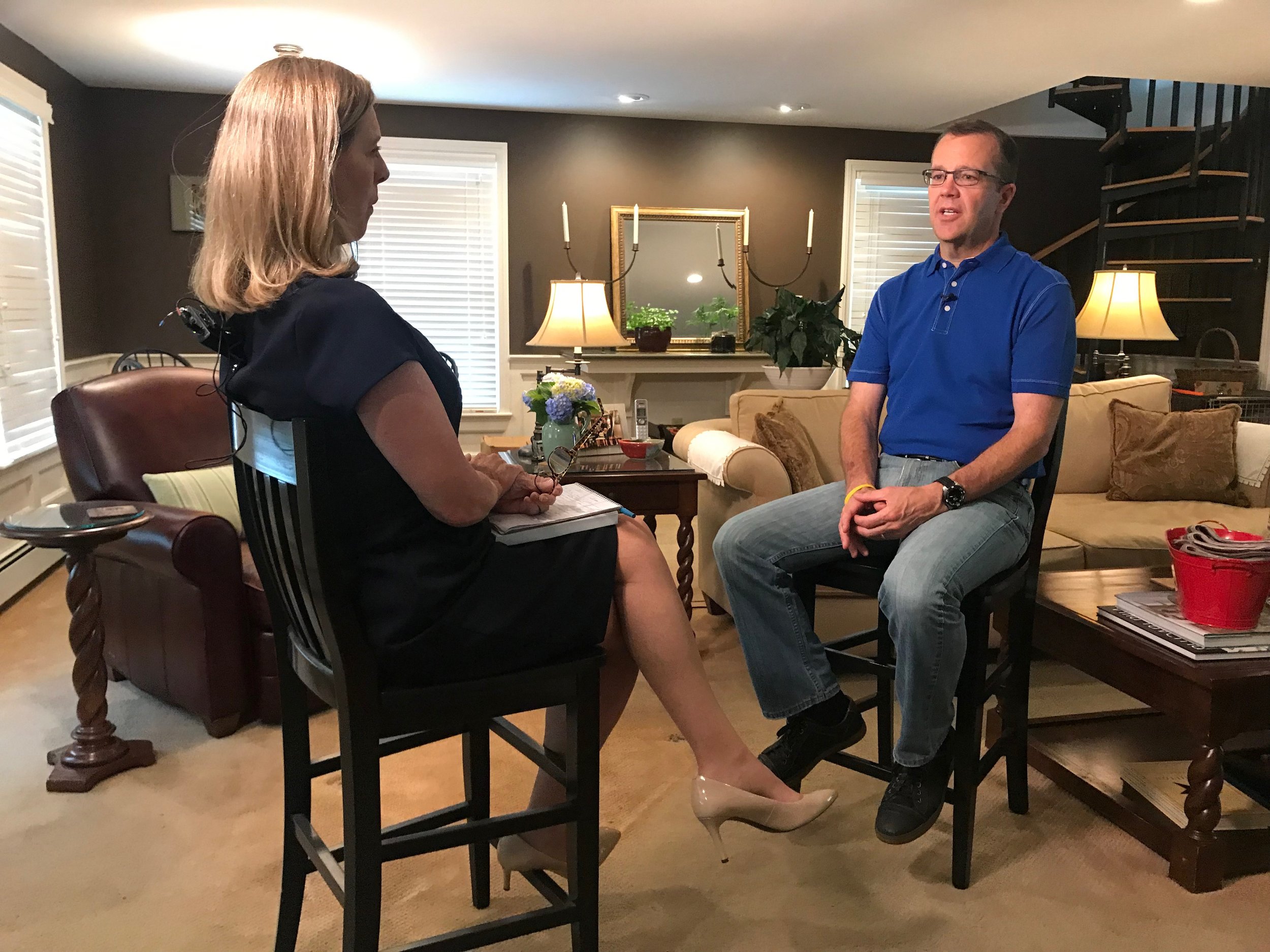 Speaking with Alison King of NBC10-TV in Boston.
After my appearance with Jon Keller on "Keller@Large" on WBZ-TV in Boston.
With Major Garrett at Cafe Milano in Washington to tape his CBS News podcast "The Takeout."
Speaking in Washington with Julie Mason on her SiriusXM POTUS Channel program "Press Pool."
Sharing a screen with Peter Baker of The New York Times during an appearance on "Andrea Mitchell Reports" in Washington.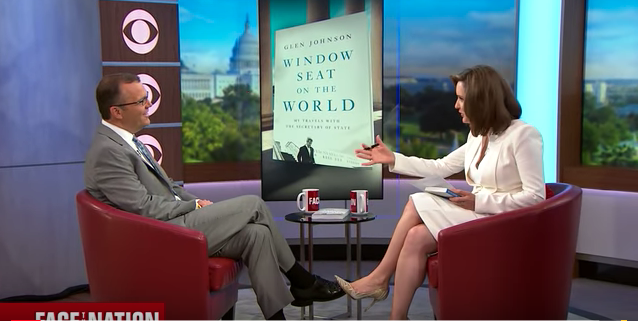 The national debut of "Window Seat on the World" with Margaret Brennan on her CBS News program "Face the Nation."
A pre-release appearance at the New England Author's Expo in Haverhill, Mass.
The first copy of my book, received at the table where I first discussed the possibility of working at the State Department with my family.
My UPS driver delivering the first batch of completed books. He insisted on carrying them into my house for me.
Window Seat on the World is being distributed worldwide, sold through bookstores - both national and independent - and available to public libraries through the network of Ingram, Baker & Taylor.
You also can order it at: